< Previous | Next | Contents >

Regression and Scatter Plot
Scattered plot is one of necessary step before you perform any simple regression. Though the plot you may guess what type of model you will use. Only computing regression parameters and get the R-square alone will not truly examine whether the underlying phenomena in your data is linear or non-linear, or in the worst case, whether there is a relationship between your dependent variable (Y) and independent variable (X). To know the relationship of your data scattered plot is needed.
Scattered plot in MS Excel is drawn using XY graph. If you are not sure on how to make this graph in Excel, here is step by step to refresh your mind.

1. Suppose you have this data that you want to plot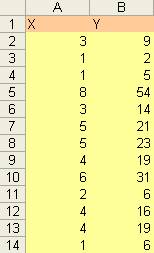 2. Select your data by dragging your mouse over the region of data. The data will be highlighted.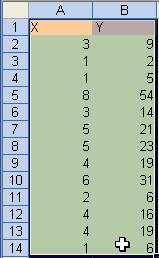 3. Click this Chart Wizard in toolbar

4. Select XY (scatter) and dot as the sub-type of the chart, then press Next button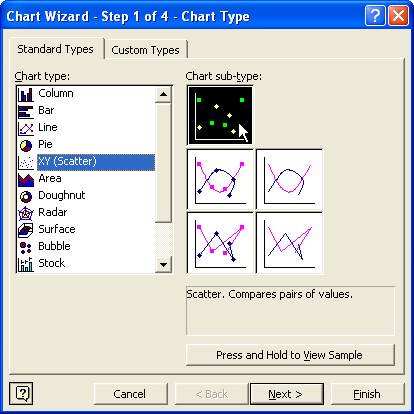 5. In wizard step 2, you see the preview of the plot. Press the Next button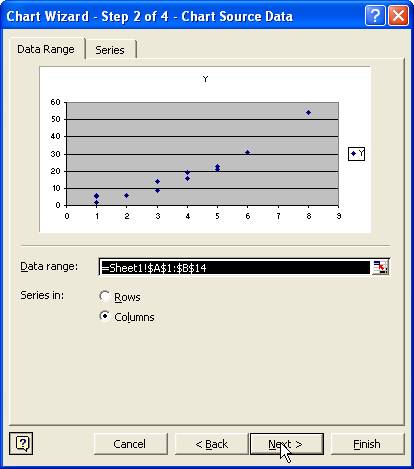 6. Change the Chart title, value X axis and value Y axis.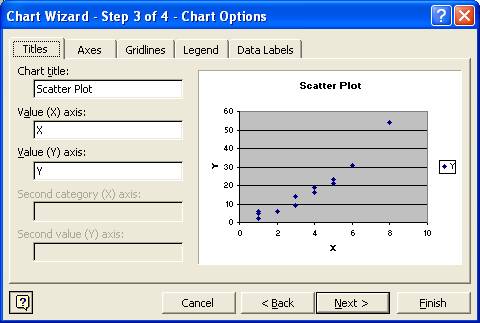 7. You can also change the gridline, placement of legend and label as optional.
8. Press Finish button and you will get the scattered plot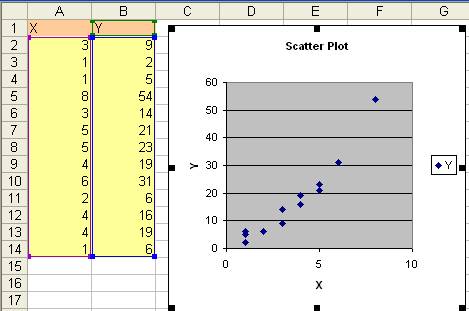 The scattered plot above shows that the relationship between independent variable (X) and dependent variable (Y) is somewhat non-linear.

< Previous | Next | Contents >

See Also : Regression tutorial , Power Rules , Logarithm Rules , Kernel Regression
Rate this tutorial or give your comments about this tutorial